Double Wall Boxes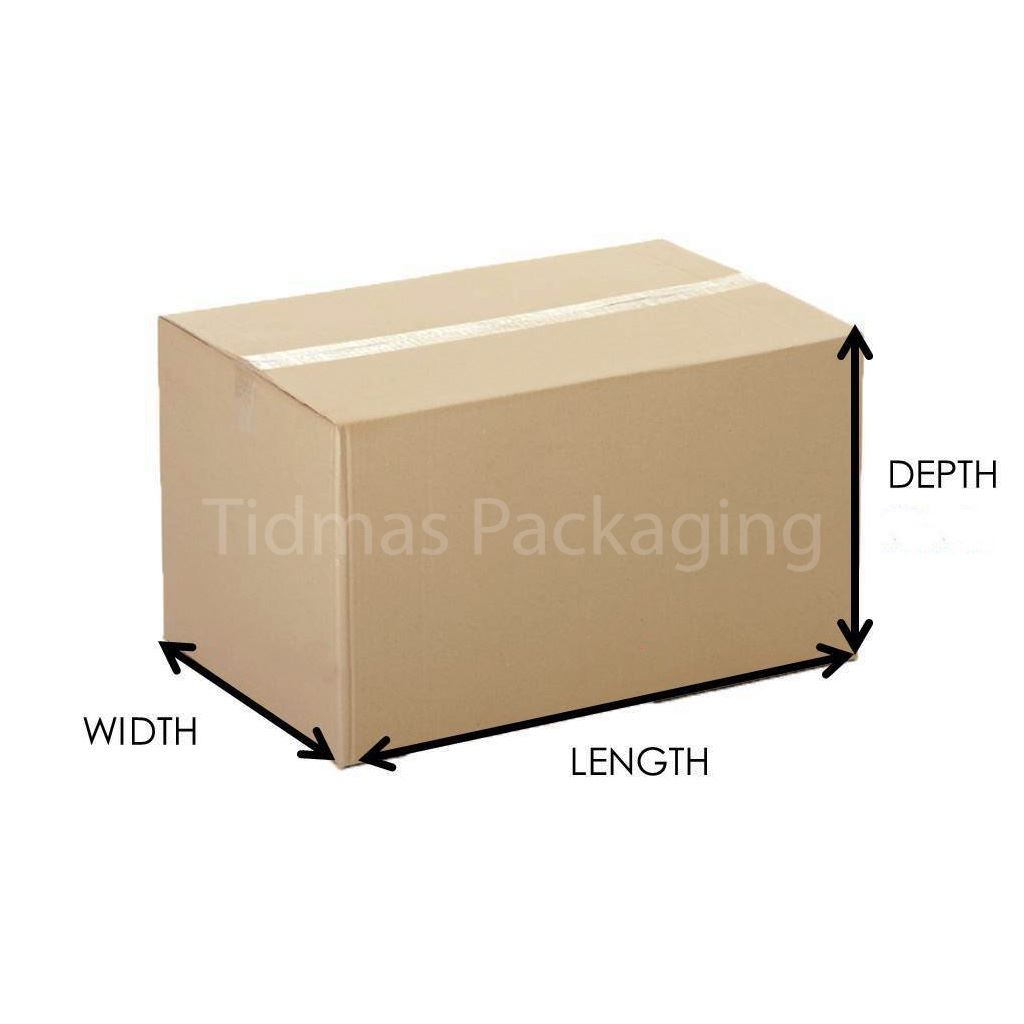 Double Wall Corrugated Boxes
Double wall cardboard boxes are a fantastic solution that offer unparalleled protection for your goods. Compared to single wall cardboard boxes, double wall boxes are specially designed to offer double the strength – perfect for the sending and storage of more fragile or heavy items.
The basics:
- Made from 2 layers of corrugated board.
- Heavy-duty design means they are suitable for heavy items.
- Multi Scored options are available, allowing you to reduce or increase their height.
- Pure kraft outer means sealing tape will stick instantly when applied and continue to hold throughout transit.
- Supplied flat-packed for easy storage and ready bundled into packs of 10.
- 100% recyclable, sourced from managed forests.
Begin sending your products in a safe and secure way with heavy-duty large double wall boxes.
The sizes shown are the internal dimensions: length x width x height.
Need a size we don't stock? Visit our custom box page to request a quotation.

£4.36 - £31.12
Description
Additional information
Dimensions
Benefits
What is a Double Wall Box?
The difference between single wall and double wall cardboard boxes is that double wall cardboard boxes are designed to offer double the amount of strength and protection when transporting items. These boxes are composed of a dual-layer of corrugated material which is glued together, offering increased resistance against crushing or compression forces that are often unavoidable when transporting items.
This advanced level of design construction means that double wall cardboard boxes guard against damage far better than the previous iteration. As a result, your parcels should arrive where they need to be in the best possible condition.
Choosing Tidmas Townsend for high quality, strong, and well-designed double-wall corrugated boxes will ensure that your packages arrive in pristine condition, guaranteeing the respect of your returning customers.
7
Price Per Unit Pack
15
Code
Ref
Internal Dimensions mm (LxWXH)
Internal Dimensions Inches (LxWxH)
Board Grade
Pack Quantity
1-4
5-9
10-24
25-49
50+
Qty
9130_10
DW01
229 x 152 x 152
9 x 6 x 6
125KT/BC
10
&pound0.955
&pound0.851
&pound0.747
&pound0.580
&pound0.436

9131_10
DW02
254 x 254 x 254
10 x 10 x 10
125KT/BC
10
&pound1.266
&pound1.162
&pound1.059
&pound0.995
&pound0.934

9132_10
DW03
305 x 229 x 104
12 x 9 x 4
125KT/BC
10
&pound0.934
&pound0.872
&pound0.726
&pound0.602
&pound0.562

9133_10
DW04
305 x 229 x 127
12 x 9 x 5
125KT/BC
10
&pound0.977
&pound0.913
&pound0.757
&pound0.674
&pound0.644

9134_10
DW05
305 x 229 x 152
12 x 9 x 6
125KT/BC
10
&pound1.141
&pound1.059
&pound0.995
&pound0.934
&pound0.861

9135_10
DW06
305 x 229 x 299
12 x 9 x 9
125KT/BC
10
&pound1.266
&pound1.162
&pound1.059
&pound0.995
&pound0.934

9136_10
DW07
305 x 305 x 305
12 x 12 x 12
125KT/BC
10
&pound1.638
&pound1.483
&pound1.422
&pound1.287
&pound1.202

9137_10
DW08
355 x 260 x 305
14 x 10.5 x 12
125KT/BC
10
&pound2.053
&pound1.910
&pound1.785
&pound1.598
&pound1.452

9138_10
DW09
356 x 356 x 356
14 x 14 x 14
125KT/BC
10
&pound2.074
&pound1.992
&pound1.858
&pound1.638
&pound1.474

9153_10
DW28
380 x 254 x 254
15 x 10 x 10
125KT/BC
10
&pound2.054
&pound1.910
&pound1.786
&pound1.599
&pound1.452

9139_10
DW10
406 x 406 x 406
16 x 16 x 16
125KT/BC
10
&pound2.904
&pound2.697
&pound2.541
&pound2.343
&pound2.115

9140_10
DW11
457 x 305 x 254
18 x 12 x 10
125KT/BC
10
&pound1.682
&pound1.578
&pound1.431
&pound1.288
&pound1.224

9141_10
DW12
457 x 305 x 305
18 x 12 x 12
125KT/BC
10
&pound1.846
&pound1.682
&pound1.578
&pound1.484
&pound1.410

9142_10
DW14
457 x 457 x 305
18 x 18 x 12
125KT/BC
10
&pound2.800
&pound2.615
&pound2.427
&pound2.282
&pound2.200

9143_5
DW15
457 x 457 x 457
18 x 18 x 18
125KT/BC
5
&pound3.768
&pound3.652
&pound3.482
&pound3.236
&pound3.108

9144_5
DW16
457 x 457 x 508
18 x 18 x 20
125KT/BC
5
&pound4.358
&pound4.064
&pound3.734
&pound3.442
&pound3.234

9145_5
DW18
508 x 305 x 305
20 x 12 x 12
125KT/BC
5
&pound2.282
&pound2.076
&pound1.910
&pound1.744
&pound1.620

9146_5
DW19
508 x 508 x 508
20 x 20 x 20
125KT/BC
5
&pound4.126
&pound3.820
&pound3.650
&pound3.528
&pound3.404

9152_5
DW22
584 x 381 x 343
23 x 15 x 13.5
125KT/BC
5
&pound3.224
&pound3.014
&pound2.904
&pound2.796
&pound2.752

9147_5
DW23
610 x 457 x 457
24 x 18 x 18
125KT/BC
5
&pound4.126
&pound3.820
&pound3.650
&pound3.530
&pound3.406

9148_5
DW24
610 x 610 x 610
24 x 24 x 24
125KT/BC
5
&pound5.394
&pound5.060
&pound4.896
&pound4.644
&pound4.358

9149_5
DW25
762 x 457 x 457
30 x 18 x 18
125KT/BC
5
&pound5.808
&pound5.394
&pound4.978
&pound4.814
&pound4.540

9150_5
DW26
762 x 508 x 508
30 x 20 x 20
125KT/BC
5
&pound6.224
&pound5.188
&pound4.956
&pound4.728
&pound4.460
<!-PD2-->
23 variations
Select below
Internal Dimensions mm (LxWXH)
Internal Dimensions Inches (LxWxH)