Jiffy Padded Paper Filled Envelopes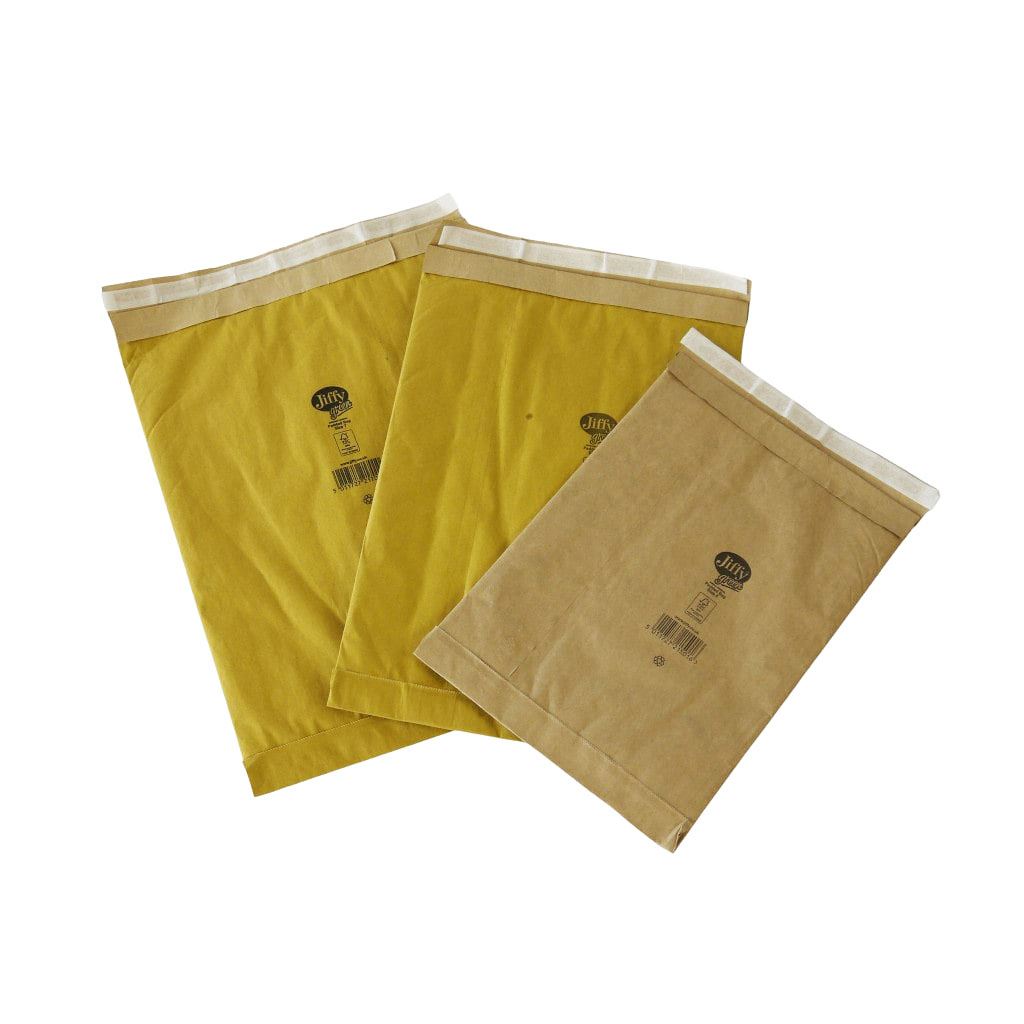 Jiffy Padded Paper Filled Envelopes
Made from thick 90gsm pure kraft paper.
Contains recycled paper to provide protection in transit.
Peel and seal strip for easy and secure closure (excluding size 8).
100% recyclable and fully biodegradable.
High quality eco-friendly bag from a brand leader in protective packaging.
Double folded corners and double glued bottom flap.
Perfect for heavier items or those requiring more protection than what a bubble lined mailer offers.

£15.04 - £49.05
6
Price Per Unit Pack
13
Code
Size Ref
Width x Length in mm (internal dimensions)
Envelope Colour
Pack Quantity
1-3 Packs
4-7 Packs
8-15 Packs
16+ Packs
Qty
53J01
00
107 x 235
Brown
200
&pound0.137
&pound0.127
&pound0.115
&pound0.108

53J02
0
132 x 235
Brown
200
&pound0.153
&pound0.137
&pound0.123
&pound0.115

53J03
1
164 x 285
Brown
100
&pound0.202
&pound0.182
&pound0.165
&pound0.151

53J04
2
196 x 285
Brown
100
&pound0.229
&pound0.208
&pound0.188
&pound0.175

53J05
3
196 x 350
Brown
100
&pound0.262
&pound0.240
&pound0.218
&pound0.206

53J06
4
221 x 350
Brown
100
&pound0.295
&pound0.282
&pound0.262
&pound0.240

53J07
5
247 x 387
Brown
100
&pound0.391
&pound0.349
&pound0.317
&pound0.292

53J08
6
298 x 464
Brown
50
&pound0.480
&pound0.447
&pound0.417
&pound0.382

53J09
7
336 x 489
Brown
50
&pound0.578
&pound0.541
&pound0.480
&pound0.441

53J10
8
437 x 666
Brown
50
&pound0.981
&pound0.959
&pound0.872
&pound0.803
<!-PD2-->
10 variations
Select below
Width x Length in mm (internal dimensions)