Royal Mail Medium Parcel Boxes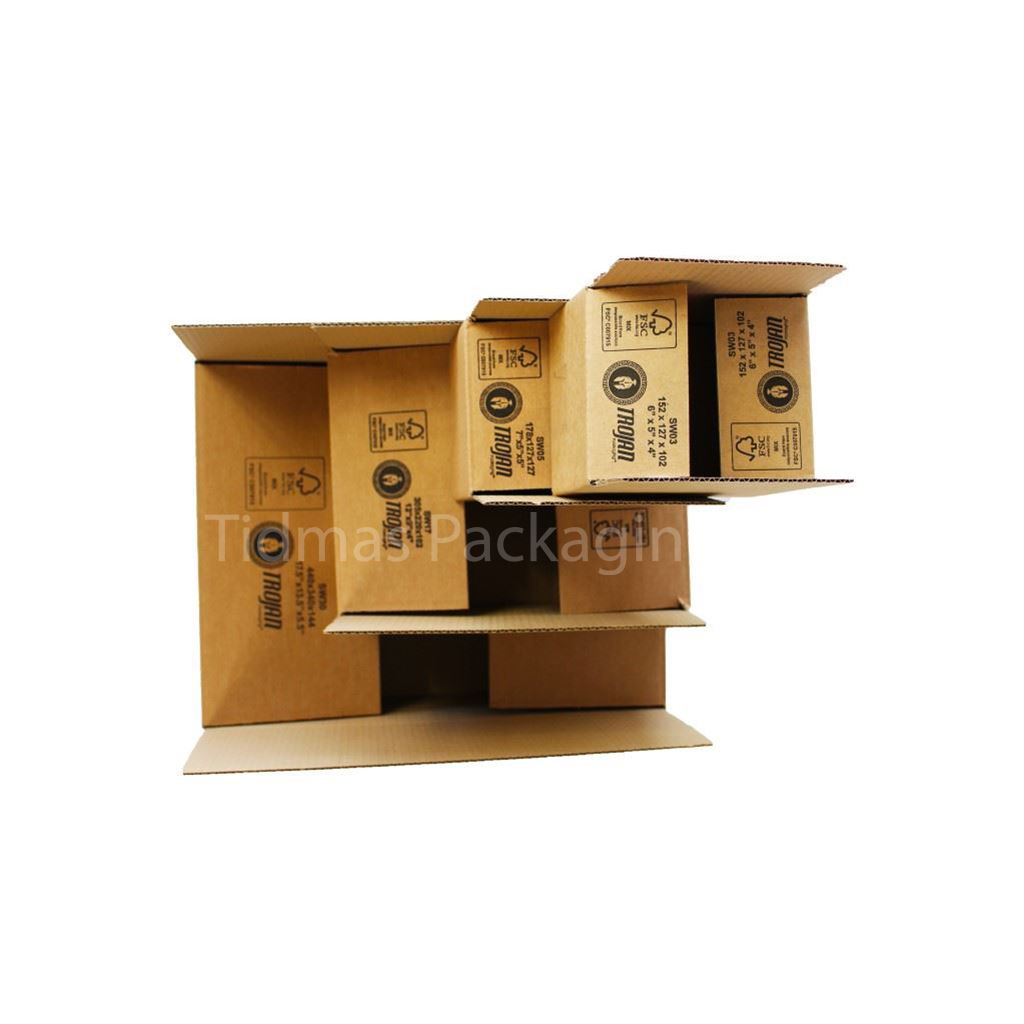 Single Wall Corrugated Boxes
Everything on this page has been specifically designed to fall within the Royal Mail postage guidelines for Medium Parcel size items.
We have an extensive range of boxes covering a large range of sizes to make sure you never use more than you need! No matter what size your product is we've got the right size box to get it to your customer.
We keep a huge range of single wall stock boxes to suit your needs. Available in small quantities with large discounts for bulk orders, our boxes are made from high quality corrugated board that won't lose their shape or rigidity when packed.

The pure kraft outer means sealing tape will stick instantly when applied and will continue to hold throughout transit.
Supplied flat packed for easy storage and ready bundled into packs of 25.
100% recyclable, sourced from managed forests.
Need a size we don't stock? visit our custom box page to request a quotation.
Also known as corrugated cases or cardboard boxes.

£3.38 - £30.13
7
Price Per Unit Pack
15
Code
Ref
Internal Dimensions mm (LxWxH)
Internal Dimensions Inches (LxWxH)
Board Grade
Pack Quantity
1-4 Packs
5-9 Packs
10-24 Packs
25-49 Packs
50+ Packs
Qty
9027_25
SW10
203 x 203 x 203
8 x 8 x 8
125KTD
25
&pound0.610
&pound0.530
&pound0.450
&pound0.370
&pound0.290

9045_25
SW13
229 x 229 x 152
9 x 9 x 6
125KTD
25
&pound0.613
&pound0.540
&pound0.467
&pound0.393
&pound0.321

9029_25
SW14
229 x 229 x 229
9 x 9 x 9
125KTD
25
&pound0.665
&pound0.416
&pound0.352
&pound0.334
&pound0.319

9046_25
SW20
305 x 229 x 178
12 x 9 x 7
125KTD
25
&pound0.665
&pound0.463
&pound0.380
&pound0.355
&pound0.337

9036_25
SW21
305 x 229 x 229
12 x 9 x 9
125KTD
25
&pound0.568
&pound0.492
&pound0.477
&pound0.424
&pound0.396

9037_25
SW22
305 x 229 x 305
12 x 9 x 12
125KTD
25
&pound0.708
&pound0.457
&pound0.416
&pound0.388
&pound0.361

9047_25
SW25
330 x 254 x 318
13 x 10 x 12.5
125KTD
25
&pound0.756
&pound0.630
&pound0.499
&pound0.449
&pound0.415

9038_25
SW26
350 x 279 x 229
14 x 11 x 9
125KTD
25
&pound0.756
&pound0.634
&pound0.489
&pound0.456
&pound0.424

9048_25
SW31
432 x 267 x 127
17 x 10.5 x 5
125KTD
25
&pound0.756
&pound0.634
&pound0.489
&pound0.460
&pound0.434

9049_25
SW34
457 x 305 x 178
18 x 12 x 7
125KTD
25
&pound0.808
&pound0.642
&pound0.594
&pound0.555
&pound0.531

9039_25
SW35
457 x 305 x 254
18 x 12 x 10
125KTD
25
&pound0.856
&pound0.665
&pound0.614
&pound0.570
&pound0.543
<!-PD2-->
11 variations
Select below
Internal Dimensions mm (LxWxH)
Internal Dimensions Inches (LxWxH)